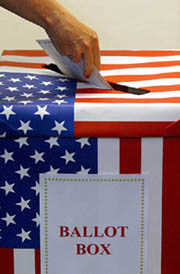 The Washington Post has a handy '
database
' of the candidates currently vying for the attention of the respective parties faithful members. I don't know whether it is written about to spike interest or create a sense of tension but commentators do like to play up the potential role independent candidates could play in next years election - of whom there is no mention in this list. With Michael Bloomberg having resigned from the GOP, announcing his attention to become an independent, there is certain credibility leant to such speculation. So too there is the prospect the election could be a New York lead affair if Giulani and Clinton both receive nominations and Bloomberg decides to take up the gauntlet.
Find here a well written New York Times article on the scale of the issues the candidates are being confronted with. I know comparisons with our election just gone are a pointless exercise based on scale alone but the election serves as a reminder of how insular our election was.
Though I am still burnt out from polls, the Gallup poll has consistently predicted the winner of the US presidential election, even the win for George W. Bush in 2000! Homepage here.
Their most accurate finding to date has to be this one reported on The Onion.